ThreatConnect Environment Server System Requirements
12 Apr 2023

2 Minutes to read
ThreatConnect Environment Server System Requirements
Updated on 12 Apr 2023

2 Minutes to read
---
Share feedback
Thanks for sharing your feedback!
Overview
Multi-environment orchestration allows ThreatConnect® users that have an Environment Server behind a firewall to use their instance to communicate with that server and run applications inside their firewall. This article provides the system requirements for installing an instance of the ThreatConnect Environment Server. See Playbook Environments for information about how to administrate an Environment and configure an Environment to an Environment Server.
Environment Server Architecture
Environment Servers are lightweight, deployable agents that sit behind a customer's firewall. This configuration allows for secure outbound traffic from the customer to ThreatConnect that enables ThreatConnect to interact with data and run automation based on the customer's security environment. Port 62000 and Port 443 are used for this communication, with Port 62000 utilizing a raw socket. Figure 1 illustrates where an Environment Server resides in a customer's ThreatConnect instance and how it communicates with ThreatConnect.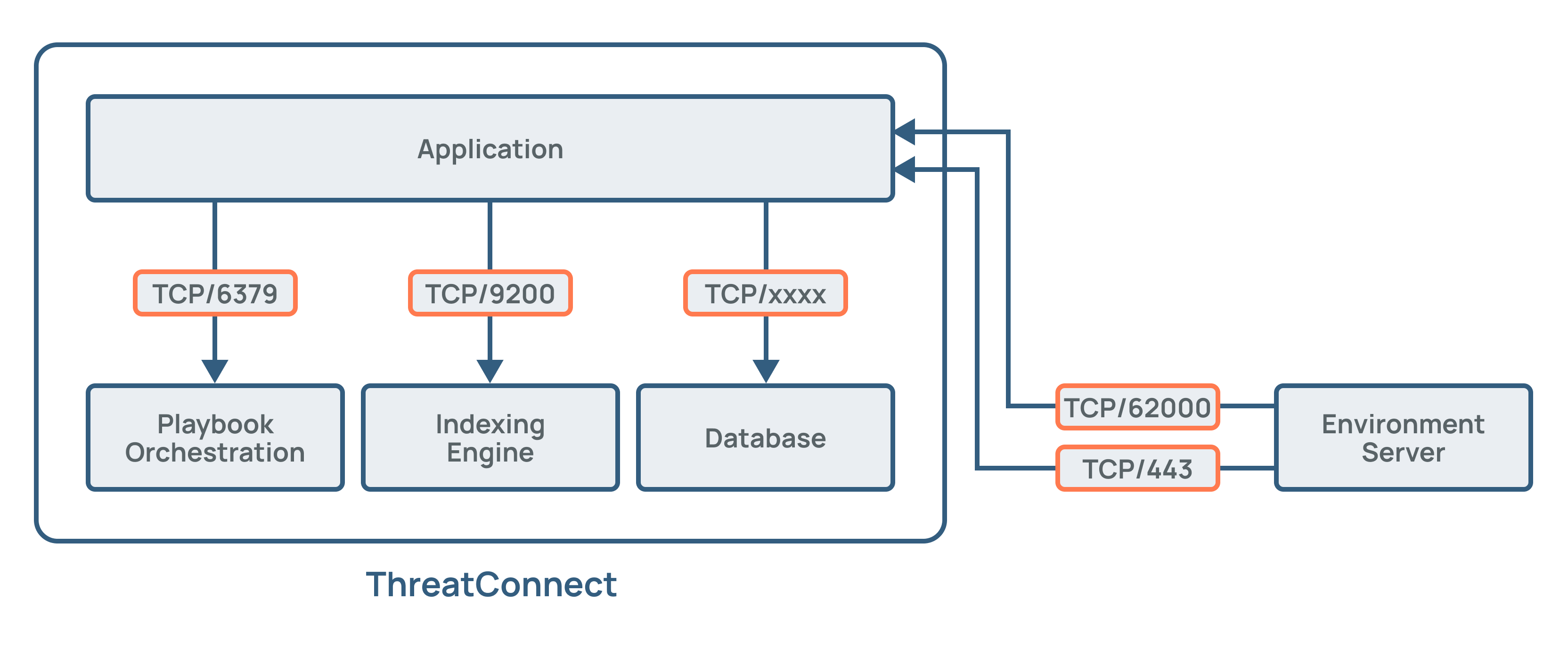 Environments are configured to house Environment Servers inside ThreatConnect. Doing so makes it possible to conduct health and performance monitoring to assess usage and collect statistics that are useful when administering Environment Servers.
System Requirements
In order to install an instance of the ThreatConnect® Environment Server, the requirements in the following sections must be met.
Hardware
The ThreatConnect Environment Server platform requires a server, virtual or physical, that meets the following minimum specifications:
4 CPU/vCPU Cores (2 GHz)
4 GB of memory
10 GB of storage
Important
These requirements apply specifically to the Environment Server, not to the ThreatConnect server operating system in general. Minimum memory and storage requirements must be available to the Environment Server. Operating system requirements may vary.
As the number or frequency of jobs increases, the need to increase system resources will likely occur. The listing in Table 1 highlights typical TC Exchange™ Apps and their specific system-resource needs.
| App Name | Frequency | CPU Used (Cores) | Memory Used (MB) |
| --- | --- | --- | --- |
| ArcSight™ EMS Extract | Daily | 1.44 | 75 |
| Tanium™ Extract v2.0 | Daily | < 1 | < 50 |
| QRadar® Extract v2.0 | Daily | <1 | < 50 |
| Palo Alto PAN-OS® Block List | Daily | .10 | 2.5 |
Software
The ThreatConnect Environment Server and its supporting packages require the following software environment in order to run properly:
Operating System: Red Hat® Linux® variant—either Red Hat Enterprise Linux® (RHEL) 6, 7, or 8 or Community Enterprise Operating System (CentOS™) 6 or 7
Java® Development Kit (JDK): Access to a local installation of Java 11 (OpenJDK version 1.11)
Python®: Installation of Python 3.6.x and Python 3.11.x is required
End-User Web Browser
It is recommended that secure WebSockets be allowed from the ThreatConnect user's browser out to the cloud instance so that the Environment Server metrics can be monitored from the user interface. The specific traffic that needs to be allowed is wss://FQDN-of-cloud-instance:62000.
Important
Port 62000 must be allowed on the local firewall (firewalld/iptable), SELinux (if using the "Enforcing" mode), the external firewall, or the proxy server if they are used.
SMTP Server
TC Exchange requires an available Simple Mail Transfer Protocol (SMTP) server to send email alerts and to correspond with users. This server must be routable from the server running the platform, and if SMTP authorization is required, the ThreatConnect Environment Server will need access to a username and password in order to generate these emails.
---
ThreatConnect® is a registered trademark, and TC Exchange™ is a trademark, of ThreatConnect, Inc.
ArcSight™ is a trademark of Hewlett Packard Enterprise Company.
QRadar® is a registered trademark of IBM Corporation.
Linux® is a registered trademark of Linus Torvalds.
Java® is a registered trademark of Oracle Corporation.
PAN-OS® is a registered trademark of Palo Alto Networks.
Python® is a registered trademark of Python Software Foundation.
Red Hat® and Enterprise Linux® are registered trademarks, and CentOS™ is a trademark, of Red Hat, Inc.
Tanium™ is a trademark of Tanium, Inc.
10029-07 EN Rev. A
---
Was this article helpful?
---
---